Bøger til socialister
John Bellamy Foster:
Ecology Against Capitalism
The argument of this book is that the realms of ecology and capitalism are opposed to each other - not in every instance but in their interactions as a whole.
----
In recent years John Bellamy Foster has emerged as a leading theorist of the Marxist perspective on ecology. His seminal book Marx's Ecology (Monthly Review Press, 2000) discusses the place of ecological issues within the intellectual history of Marxism and on the philosophical foundations of a Marxist ecology, and has become a major point of reference in ecological debates. This historical and philosophical focus is now supplemented by more direct political engagement in his new book, Ecology Against Capitalism. In a broad-ranging treatment of contemporary ecological politics, Foster deals with such issues as pollution, sustainable development, technological responses to environmental crisis, population growth, soil fertility, the preservation of ancient forests, and the
Udgivet første gang: 2002
Kategori:
Miljø og teknik
Flere titler af John Bellamy Foster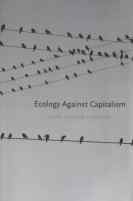 Info
176 sider
Sprog: engelsk
Pris: 160 kr.
ISBN: 1-58367-056-4
Forlag: Monthly Review Press
Lagerstatus:
Normalt på lager